As the popularity of cannabis products continues to grow, consumers have more choices than ever. This is especially true in the case of cannabis oils. When a dispensary or other provider uses the term "cannabis oil," they could be referring to one of several types of oil. Broadly, there are three main ways to use cannabis oil, each with its own set of characteristics and benefits: sublingual tinctures, vaporizer cartridges, and ingestible oils.
1. CBD Oil Tinctures
Cannabidiol (or CBD) oil is readily available throughout the United States. Even though it shows up on the shelves of grocery stores and gas stations, there's a big difference between over the counter CBD and the CBD found in cannabis dispensaries. Producers extract CBD from the cannabis plant. Then it's combined it with a carrier oil, preferably an organic MCT coconut oil, to be sold as a tincture. This allows users to get all the benefits of cannabinoids without having to smoke the plant itself.
CBD sourced from the marijuana plant has trace levels of THC which creates the entourage effect in the body. This allows each compound to work together to provide the best benefits both have to offer. It can be an effective way to treat mood problems and improve sleep. The CBD that's being sold nearly everywhere is derived from unregulated hemp. You'll need to visit a licensed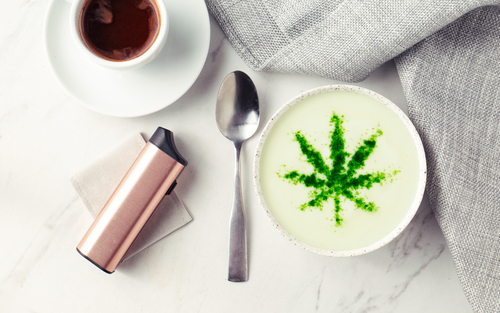 cannabis dispensary to find lab tested and certified compliant CBD products.
When using CBD oil as a tincture, place one dropper full of the oil under your tongue and hold it there for about two minutes before swallowing. It typically takes between 20 and 30 minutes to feel the effects of the oil.
2. How to Use Cannabis Oil in a Vape
Vaporizer oils are delivered via cartridges that can be inserted into battery-operated vape pens. These cartridges are offered in both THC and CBD varieties.
Vape pens are portable and easy to use in comparison to pipes or paper-rolled options and provide a nearly smoke and odor-free experience. Provided the vape cartridge is produced by a reputable lab, dosing is accurate and simple for consumers to understand.
Though it's produced in a similar way to CBD vape oil, THC vape oil is distinct in one important way. Its benefits can not only provide medicinal treatments but can also produce euphoric effects. While CBD vape oils are used primarily to treat conditions like anxiety, depression, and insomnia, THC oils offer the high associated with smoking cannabis.
Additionally, THC oil is often sold as a "dab," a solid product that can be vaporized in specialized vape pens. It is also available in tincture and capsule form. Both varieties of vape oils are typically effective within a few minutes
3. Ingestible Oils
In addition to taking cannabis oil directly as a tincture or through a vape pen, you can also infuse food and drink with ingestible cannabis oils. Another way to use cannabis oil is to encapsulate it into pill form.
THC-based oils are more common than CBD-based oils for food and drink infusion. One notable benefit of ingestible oils is precise dosage, which can help to provide the desired experience or health benefit.
Home chefs and DIY fans may be interested in making ingestible oils at home. There are many online resources for recipes and techniques. While this can be a fun and convenient way to use ingestible oils, it is important to carefully follow instructions from a reputable source. Another best practice for creating ingestible oils at home is to test the strength of the oil before infusing it into foods or drinks.
Edibles made of cannabis oil can take up to an hour to take effect, while capsules usually begin working after 2 hours or more.

Making a Cannabis Oil Choice
As with any cannabis-based product, it is crucial to seek out a reputable provider to ensure accurate dosage recommendations. When possible, seek out products created by producers that have been certified by state or federal agencies or well-regarded certification organizations like Clean Green.
Cannabis Cheri How to Make Marijuana Oil in a Slow Cooker on a Stovetop from https://chroot/home/a6f11fea/buzzdelivery.org/html.cannabischeri.com/food/cooking-basics/how-to-make-marijuana-oil-stovetop-and-slow-cooker-methods/